Myanmar military coup 2021
Myanmar (Burma) Military Coup is a disaster towards a democratic nation and for the nation's citizens as many executions are done mercilessly. It's a time when the whole world struggles with the pandemic, and we all should unite and work as one. But, we see many events happened within two years. The Myanmar Military coup is one of the biggest challenges that occurred this year.
Before going to recent events, let's first talk about the history of Myanmar. All the events in brief to understand the recent coup and what is India's stand? What should we have to do?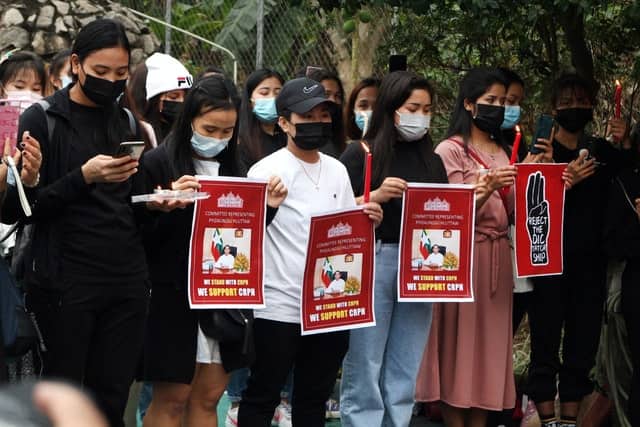 History of Burma
Myanmar, officially the Republic of the Union of Myanmar, is a country in Southeast Asia. Its capital city is Naypyidaw, and its largest city is Yangon (Rangoon). The early 19th-century Konbaung Dynasty ruled over an area that included modern Myanmar and briefly controlled Manipur and Assam.
The British East India Company seized control of the administration of Myanmar after three Anglo-Burmese Wars in the 19th century, and the country became a British colony. After a brief Japanese occupation, Myanmar was reconquered by the Allies and granted independence on 4 January 1948. After 14 years of Independence's First coup that happened in 1962, it became a military dictatorship under the Burma Socialist Programme Party. This military dictatorship occurred over 50 years, and this caused many civil wars, economic instability.
Aung Saan Suu Kyi, daughter of independence activist and revolutionary, father of the nation Aung Saan, was given the Nobel peace prize in 1991, under house arrest.
Finally, in 2008 Myanmar constitution was written and,
From the 2010 Military dictatorship, Mayanmar goes towards partial democracy.
In, 2015 The National league for democracy party won the election.
From 2016 to 2021, Aung Saan Suu Kyi stayed as a Counselor of Myanmar and Minister of Foreign Affairs.
What happened in February 2021?
Why again a coup and this Military dictatorship happened in Myanmar?
The base behind this coup started on 8 November 2020, when Aung Suu Kyi won the general election of 2020.
But the military was not satisfied with the results.
The Myanmar Military proclaimed a year-long state of emergency and declared power had been transferred to Commander-in-Chief of Defence Services Min Aung Hlaing.
It declared the results of the November 2020 general election invalid. It stated its intent to hold a new election at the end of the state of emergency even though most of Myanmar's people are satisfied with the election results.
Military says, "It has found 8.6 Million irregularities in voter lists in 314 townships that could have let voters cast multiple ballots". However, the election commission found no fraud.
What sparks the coup, The NLD was going to make reforms that will nullify the role of the military in Myanmar governance & Politics.
The military coup that occurred the day before the Parliament of Myanmar was due to swear in the members elected at the 2020 election, thereby preventing this from occurring.
President Win Myint and State Counsellor Aung San Suu Kyi were detained, along with ministers, deputies, and Parliament members.
This coup happened on 1 February 2021.
On 3 February 2021, Myanmar police filed criminal charges against Aung San Suu Kyi, accusing her of violating the Export and Import Law for allegedly importing unlicensed communications devices used by her security detail.
On 15 February 2021, the military deployed armored vehicles across the cities to silence the demonstrations in the country. Thousands of protesters in different cities across Myanmar had been calling for Aung San Suu Kyi's release.
As of 31 March 2021, at least 520 civilians, including children, have been killed by military or police forces, and at least 3,070 people were detained. Three prominent NLD members also died while in police custody in March 2021.
International Reaction on Myanmar military coup 2021
We can divide the reactions of various nations into two parts:
Response after the coup.
The long-term policy of the nation.
Myanmar military coup 2021 & China's involvement
China didn't react in any way at first. Still, we can conclude that Myanmar Chief Min Aung had a good relation with China in the long term. Many western nations were criticizing the Myanmar military for the Rohingya's brutality.
Chinese foreign Wang Yi called Myanmar chief Min Aung his brother; also, if we see the other side Myanmar chief Min Aung has criticized china for supporting anti-national armed forces that China backs.
Last year, despite Rohingya backlash, China had signed 33 deals with Myanmar for Belt and Road Initiative. The china and Myanmar economic corridor is an essential aspect for china.
So, we can say that china does not concern the democratic shift to military dictatorship as long as China's political, economic, and strategic benefit is not hurt.
India's reaction to Myanmar coup
India's sudden reaction supported the democratic changes that happened. But, at the same time, it didn't criticize the Military Coup. India shares a total border of 1643KM with Myanmar, so in the longer term, India want democracy again establish within the nation. At the same time, India doesn't want to harm their military relationship with the Indian army and Myanmar army.
In the early 1990s, India's overall Myanmar policy was unduly influenced by the Indian support to Aung San Suu Kyi, who strongly connected with India. Aung San Suu Kyi has done her Degree in Politics from India.
As China started its relation directly with the Myanmar military at the same time, So India revised its policy in 1992. The procedure was widely reviewed in 1992 when India decided to engage with the Myanmar military. The Indian army and Myanmar army have done many operations against many terror groups along India-Myanmar's border.
Even after the coup, India continued humanitarian assistance to Myanmar by supplying Covid-19 Vaccine.
So, India is walking on a thin rope where India wants democracy to establish back in Myanmar while India doesn't want to harm their relationship with the Myanmar army.
How western country reacts to Myanmar?
USA, UK, and Australia are aggressively opposing the coup, and they are putting sanctions on Myanmar.
The present condition of the Myanmar military coup 2021
In two months, Myanmar has faced a very lethal situation. No citizen has any rights. Anyone found protesting against the military is shot dead without any mercy. In southern Myanmar are conducting airstrikes. The Burmese people are running from their own country and trying to take shelter in their neighboring like Thailand. But, Thailand has closed its borders to Myanmar due to of two significant reasons.
Countries having their borders with Myanmar do not want to affect relationships with the Burmese Military
It's not possible and feasible for a country to accommodate all the migrants
How to stop the Myanmar military coup 2021 and help Myanmar people?
It's bone-chilling to understand the situation of Myanmar where their military is conducting mass murder, and no other nation is helping the Burmese population. The only solution is having Political & Military talks by the Neighboring countries.
India Should take this as an excellent opportunity to build good ties with Myanmar. Being a superpower in South Asia, India should take the first step and try re-establishing the democracy within Myanmar without affecting their relations with the military.
China will try grasping this opportunity and try building ties with Myanmar Military without re-establishing the democracy as their political, economic, and strategic interests are better without democracy in Myanmar. It will be like a new Pakistan in the East, where China will build its military ties. This is a big problem for India. India needs to take a stand and help Myanmar rebuild its democratic title.