Olympics a great opportunity
Tokyo Olympics 2020 began with lots of hopes and anticipations. Our athletes pushed hard to make it to the top and fans prayed and cheered everywhere. We expected this year to be a different story, and it went unexpectedly. India had won fourteen medals at the Olympics. After Abhinav Bindra, Neeraj Chopra is the second individual Olympic champion. but in the end, the main question is Why India is lagging in the Olympics and not getting medals?
Also for the first time, India won a gold medal in athletics and after 41 years of wait, India won a Bronze medal in hockey. Tokyo Olympics turn out to be the best Olympics for India with success and failure we came out in 48th position.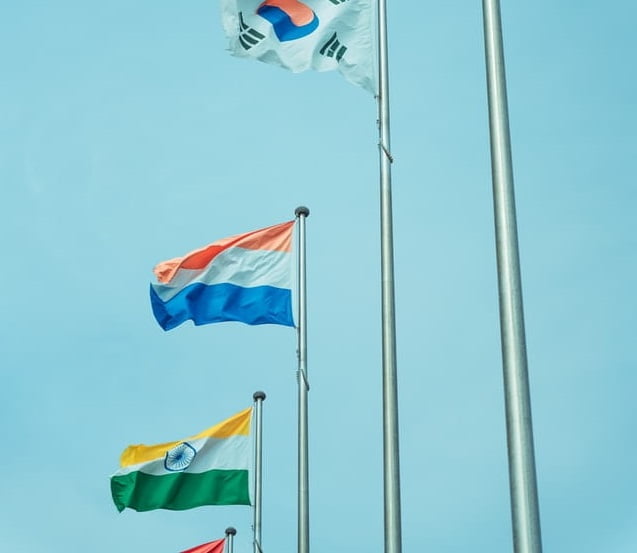 But with all celebrations, we also need to understand that we being the 6th largest economy and second-largest nation in terms of the population still we could stand into Top 50 and to come under top 10 we need to face the truth and learn it is still a long run.
Although for Tokyo Olympics 2020: 120 Indian athletes had qualified for the summer games which is the highest record ever but if we see statistics our neighboring nation China sent 431 athletes which is almost three times what India sent and China won 38 gold medals and 88 medals. Though comparing India and China is not fair, despite that, have to understand these points and correct them for the upcoming Olympics.
Why India is lagging in sports?
In the hundred years of the Games from Athens to Atlanta (1896-1996) and now Tokyo, India has a measly total of thirty-five medals- Ten gold, Nine silver, and Sixteen bronze. Every Olympic year there are analyses on why Indian sports are deteriorating. They draw big plans up, but these die a natural death.
Reason why India is lagging in the Olympics:
Social factor: : Indian history never had a sporting culture, unlike Greek and Roman civilizations. India is the second only to China in population, but it has not produced a staunch champion because we as a society lack discipline, hard work, and nationalism. The absence of professionalism in our daily life influences our upcoming sports persons. We also lack the killer instinct. Also, with a culture where sports are taken as a waste of time and they take seriously health when having diabetes or weight over than a person can bear.
Economic factor: Being poor, most Indians are concerned more about their next meal than about sports. But there are many impoverished African nations whose athletes are doing well. They go abroad to hone their skills. Indian children are engrossed in studies or while away from their time. Most children who take up sports do so for a job. Medals do not depend upon the number of the population, but on the nation's per capita income, the UK spends 5.5 million euro for each medal that's we need the amount of investment in Olympics.
Administrative factor: All mass-based programs on the lines of socialist countries, which were tried out through the Sports Authority of India and State Youth departments, have failed. Rather than being mass-based, programs should focus on the new talented persons who can flourish at the international level. Rampant corruption and regionalism plague federations and state associations controlling sports administration, and there is very little accountability. The government only spent 3 paise per person in India's sport expenditure around 1400 crore 2018 census. Khelo India expenditure was around 890 crores got increased by around 300 crores since the 2019 census.
Educational Institutions: The right place to introduce children to physical activities is the school. Unfortunately, parents take pride only in the pass percentage at the exams. The center is now planning to introduce compulsory physical education as a part of the curriculum. We have big Coaching Institutions for IIT-JEE and other highly competitive exams which is good and should not be brought down, but we also need to understand the importance of sports institutions so that least a student is healthy and can consider sports as an option.
Training methods: We lack dedicated coaches and physical instructors. The training systems are obsolete and good coaches may not upgrade their knowledge. Dieticians, physiologists, psychologists. And top-line trainers are rarely available to top performers. If a proper system is in place, the few talented players can reach greater heights. We should get the best coaches if need be from abroad.

Other than coaches and better facilities we also need to look into the other Nations' progress and need to compare our efforts in the R&D of the sports section Other nations using tech-savvy equipment to improve the training methods of their athletes so that they can perform better at international level. For example, China Used a Low-speed wind tunnel for ballistic missile testing under human conditions so that their Swimmers can perform better in Tokyo Olympics.

Talent spotting: We need to ensure that the right talents are identified and promoted to represent India in the international arena. This does not mean that we should promote a few disciplines and neglect others.In the Target Olympic podium scheme in the 2016 Rio Olympics, nearly 50% is spent on shooting. The administrators of each discipline should show regular progress for funds to be allocated for it. Only hockey, tennis, badminton, Cricket, Athletics, wrestling, and weightlifting have shown remarkable performance at the international level.
Corporate Involvement: Recently, the Centre announced a tax holiday for corporate bodies that encouraged sports. This would be meaningless if they spent the money on hosting the events and not on the development program. It would also be appropriate if performing individuals and teams get incentives according to their performances
Individual Efforts: Sports history of India shows individual efforts backed by their families have led to outstanding performances. The Ramanathan and Ramesh Krishnan success stories, along with others like Prakash Padukone, Sachin Tendulkar, Sunil Gavaskar, Vijay Amritraj, and Leander Paes are the sure pointers. Society, the government, or any other institution did very little during the developing stages of their sporting careers.
Press: We need an honest and mature media, which is not partial to a particular sport or individual. The press should stop building up personalities and then drop them like hot bricks.
.) The Ideal system: That would be in place if all the above points are noted. Besides making stadiums available, an attitudinal change in the nation for inculcating a physical culture will bring results. These will see a champion emerge from a talent base.
Sports Administration: The captains of the Indian industry say the standard of our sport, save cricket, doesn't infuse enough confidence for it to pump money in a big way, while the sports administrators are waiting for the private sector to prop the federations. Will the situation change by 2025? If the trends are any sign, there's no reason why should it take so long. Indian sport should see a sea change in the next decade.

Today there's a greater awareness among the people about all major sports, thanks to the exposure on the telly. Sport is today linked to fashion and entertainment. State funding of sport has to end sooner than later and its role is already dwindling and it must.
Tokyo Olympics 2020:
This year 2021 Tokyo Olympics took place, and we saw an ocean of opportunities and with full of enthusiasm, our athletes took participation and gave their best and got the very results we were waiting for a long time. Subedar Neeraj Chopra becomes the second Indian individual athlete and Olympic champion who won a Gold medal In Men's Javelin throw. PV Sindhu won her second Olympic medal and Men's Hockey team won an Olympic medal after 41 years.
Mirabai Chanu Opened India's first medal at Tokyo Olympics with a silver Medal in women's 49 Kg her first medal at the Olympics.
Lovlina Borgohain on her Games debut, Lovlina Borgohain won a bronze medal at Tokyo 2020 after losing in the semi-finals to the top seed Busenaz Surmeneli of Turkey in the women's 69kg.
PV Sindhu – Bronze medal – women's singles badminton queen PV Sindhu became the first Indian woman and only the second Indian athlete – after Sushil Kumar – to win two individual Olympic medals.
Ravi Kumar Dahiya – Silver medal – men's 57kg freestyle wrestling. Ravi Kumar Dahiya lost to twice world champion Zavur Uguev of ROC in the final of the men's 57kg freestyle. It was India's ninth silver medal in Olympic history and a second silver medal in wrestling after Sushil Kumar in London in 2012.
Indian hockey team – Bronze medal – men's hockey. After a 41-year wait, the Indian men's hockey team finally have an Olympic medal since the gold at the 1980 Moscow Olympics. It is our third Olympic bronze medal – after the 1968 and 1972 games.
Bajrang Punia – Bronze medal – men's 65kg wrestling. Bajrang Punia became the third Indian debutant to win a medal at Tokyo 2020. It was India's sixth medal for the Tokyo Olympics.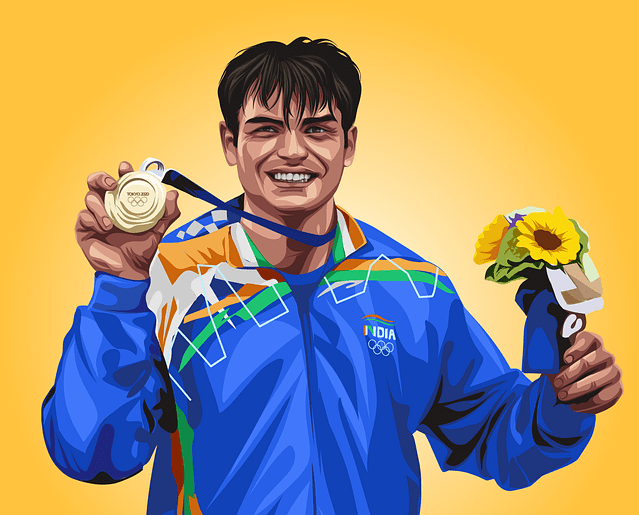 Neeraj Chopra – Gold medal – men's javelin throw.
Neeraj Chopra became India's second individual Olympic champion – after Abhinav Bindra – with his men's javelin throw gold at Tokyo 2020. It was India's first track-and-field medal at any Olympic Games. Neeraj Chopra threw 87.58m to clinch the gold medal.
Conclusion
India is not economically stable and does not have any genetic advantage is still producing its best players out who can compete and can give better than many nations this time India came 48th worldwide and is aiming to improve for the next Olympics.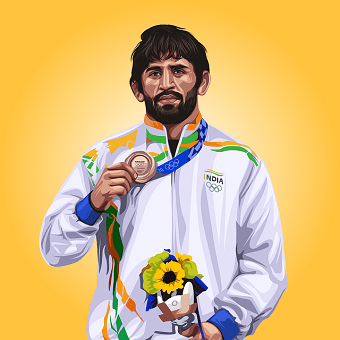 We also need to give our best regards and love and blessings for the Para-Olympics, which will begin on Tuesday, 24th August 2021our players are going to give their best and perform we need to give our regards and love to them. The Indian government also needs to consider sports as an option an opportunity and try improving the Sports budgets and making better infrastructures and better nutrition and better training methods.
Our Nation where Physical education subject is also taken for granted and not given equal weight-age like other subjects. If new generations take fitness and better nutrition, not just a way to look better and have a better physical appearance but also a habit for ourselves, then only sports can emerge out in a better way.
Having better sports complexes and taking one sport during school and during graduation compulsory, only India will understand the importance of sports and fitness.
Let hope the new education system will come out fruitful, also The Indian government needs to invest more not only in better facilities but also in the athletes who lose matches and don't get the desired results as sports require motivation and also with the better amount than only our player will consider sports as an option, Let us hope in future our players are not seen selling any side road snacks and working as a parking ticket worker.
India can and will emerge out as a world-class center for players if not only the Indian government but also each one of us takes sports by heart and respect them in early ages and consider them as a career option as this can generate indirect as well as direct employment which will boost our Image and economy.